Immunofluorescence Quantitation of Dystrophin in Muscle Biopsies using SOLA Light Engine
Precise and reproducible quantitation of dystrophin, the protein product of the DMD gene, is required for evaluating the efficacy of gene therapies for treatment of muscular dystrophy. Deficient expression of dystrophin, which stabilizes the sarcolemma (muscle cell membrane) and protects it from stress imposed by muscle contraction, results in Duchenne and Becker muscular dystrophies. Seeking to combine sensitive detection of dystrophin with mapping of its spatial distribution in muscle tissue, Tatyana Vetter, Ph.D. and colleagues from the Center for Gene Therapy at Nationwide Children's Hospital, Columbus, OH have developed an immunofluorescence microscopy method for dystrophin quantitation (1). The method uses a Nikon Ti2 microscope with a SOLA Light Engine for two-color immunofluorescence detection of dystrophin and spectrin in muscle biopsy tissue samples. Image analysis is then applied to obtain quantitative estimates of dystrophin density and proportion of dystrophin-positive coverage at the sarcolemma of each muscle fiber. Validation across 15 dystrophinopathy muscle samples and six healthy control samples demonstrated capacity for measurement of low levels and small differences in dystrophin expression in the context of different DMD mutations, with good repeatability between serial tissue sections and reproducibility between operators.
For additional background on the method and its application for evaluation of gene therapy efficacy, watch this video presented by Dr. Tatyana Vetter.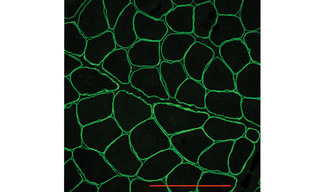 Figure 1. Immunofluorescence image showing normal dystrophin localization around the sarcolemma in human muscle biopsy tissue. Scale bar = 100 µm.