Analysis of Halide Perovskite Degradation using Lumencor's RETRA Light Engine
Economic feasibility of new photovoltaic materials depends on both their efficiency in converting incident light into electrical current and their capacity to maintain that efficiency over operating lifetimes of 25 years or more. Therefore quantitative understanding of chemical and photochemical degradation pathways is needed for estimation of service lifetimes. In view of the demonstrated potential of halide perovskites (HP) as low-cost high-efficiency photovoltaics, a team of researchers from the University of Washington in Seattle (1) used optical transmittance measurements to quantitatively assess the effects of oxygen, humidity, and illumination flux on the degradation of a prototypical HP, methylammonium lead iodide (MAPbI3). Sample illumination was supplied by a RETRA Light Engine, providing incident photon fluxes of 1–10 suns (1 sun = 100 mW/cm2). Two predominant modes of HP degradation were identified: (i) dry photooxidation (DPO) occurring in the absence of vapor-phase water and (ii) a water-accelerated photooxidation (WPO) pathway (Figure 1). WPO proceeds faster than DPO, even at a very low humidity. These results have significant implications for the design of both encapsulation schemes for halide perovskite photovoltaics and accelerated testing protocols for service lifetime prediction.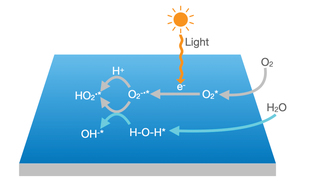 Figure 1.
Dry photooxidation (DPO) and water-accelerated photooxidation (WPO) pathways generating hydroperoxyl radical, superoxide radical and hydroxyl ion reactive oxygen species that give rise to halide perovskite decomposition.